BCL Ventilation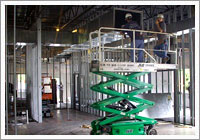 At BCL Ventilation Ltd, we install air conditioning and ventilation systems, including all HVAC ductwork to your precise specifications. We use the latest in computerised technology, to help with both the design and costing processes, and ensure the most efficient use of your time and money at every stage.
Our advanced production facility is housed in a 13,282 sq ft premises located at Unit 7A Little Island Industrial Estate, Little Island, Cork where our sister company BCL Metal Ltd manufacture a complete range of Heating and Ventilation (HVAC) Ductwork, together with a full range of associated products and general steel fabrication
---
Services
On site installation
We have a very strong experienced range of site teams comprising site managers, sheet metal workers, general operatives and installation sub-contractors, all of whom are hugely experienced and have worked with the company for a number of years.
Main services provided include:
Ventilation Systems
Dust and Fume Extraction
Heat Removal
Air Conditioning
Sheet-metal-work
General Fabrication
Plasma Profiling
To this end, the company has been committed to the creation and maintenance of a quality management and administrative team, which give a strong backup to our on site teams.
Products
HVAC DUCTING is the core product used and comes in a number of pre-fabricated sizes and shapes. It is manufactured to the highest standards of sheet metal construction and is available in whatever configuration demanded by your project.