Company Profile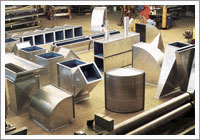 We are Irelandís leading experts in the installation of ventilation, air-conditioning systems and manufacturer of HVAC ducting.
BCL was formed in 2000 and since has accumulated a wide range of clients in the Construction and Pharma sectors.
BCL is split between two companies, BCL Ventilation Ltd and BCL Metal Ltd. The former specializing in the installation of ventilation and air conditioning systems and the latter manufacturing a complete range of Heating and Ventilation Ductwork, together with a full range of associated products and general steel fabrication.
From the beginning, BCL has focused on customer satisfaction and providing the best quality service and product possible. We believe that this was a very important factor in the continuous growth of BCL over the years. Also this has been achieved through excellence in safety, value for money, schedule adherence and consistent commitment to each Client. A list of some of our main clients is below.
Dornans
Kirby Group
HA O Neil's
BMD
Leo Lynch Mechanical
Erneside Engineering Ltd
JCD
Winthrop Eng
BMC
Airflow Services
Bam Services
Imtec Suir
Pfizers
GSK
Fererro
Bausch & Lomb
Mercury Eng
Walsh Mechanical
OMPL
LMC Energy
KD Group
MMD Construction
Stewart Group

Employing an average of 100 people and manufacturing from its 13,282 sq ft premises located at Unit 7A Little Island Industrial Estate, Little Island, Cork. BCL has built its reputation for excellence on its ability to deliver high quality services in a professional manner. This is evident from the large volume of repeat orders, which is testament to the quality of the management.

Today we remain one of the most trusted and respected leaders in the installation of ventilation, air-conditioning systems and manufacturer of HVAC ducting.

BCL carry out a wide range of Industrial Insulation projects in all areas from Industrial, Construction and Phama Industries. We use all types of Insulation from Fiberglass, Rockwool, Phenolic Foam, Foam Glass, Armaflex and Kingspan on piping and HVAC systems listed below:

-Chilled Water
-Steam & Condensate
-Process Cooling Water
-LPHW
-HVAC Insulation & Cladding
-Glycol Chilled systems